Celebrities Who Wear Colored Contacts and You Never Notice
 It's no wonder colored contacts became so popular - they are one of the easiest ways to change your appearance and improve your confidence. Even a lot of celebrities couldn't resist them.
Some wear them every day, while others opt for colored contacts only on special occasions when they match their outfit and make-up. Let's discover together who are the celebrities who wear colored contacts - you will see a lot of famous faces here, both men and women. Some of the names might surprise you!
Jennifer Aniston
It's hard to believe that she is wearing colored contacts as they match her complexion and her hair color perfectly!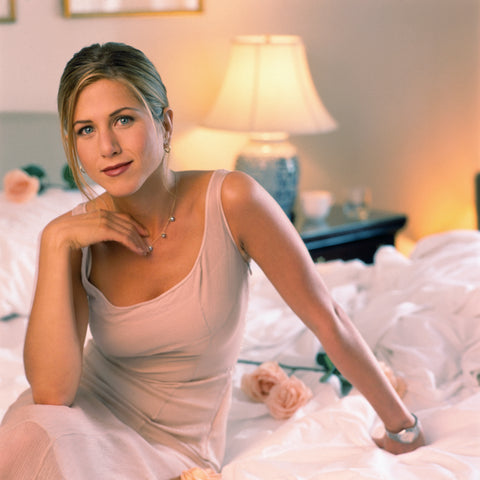 She has been wearing them for a long time, so long that nobody remembers what was her natural eye color. Most fans assume it could be brown, but we can't be sure about it as she never revealed it.
There are even some fan forums where people have fun guessing her natural eye color and we can just imagine Jennifer reading those forums and laughing and she continues to keep it a mystery.
However, Jennifer looks awesome and decades younger thanks to her beautiful blonde hair and blue contacts. The best thing about her contacts is that they look very natural as if she was born with them. The trick is to choose the right tone that will compliment your face and she managed to do that.
Paris Hilton
Talking about beautiful blondes, it's impossible not to mention Paris Hilton!
Although she has experimented with brown hair, fans are glad that she turned back to blonde, because it suits her so well. She also has a unique eye color - light blue or aquamarine, depending on the light.
However, her natural eye color isn't blue! Her natural eye color is brown, but she has been wearing colored contacts for years now. Rumor has it that she is having her contacts custom-made so that no one else can have the same color as her.
That sounds exactly like something Paris Hilton would do because she always wants to be unique. No wonder that they fit her so well and look gorgeous on her face!
Lady Gaga
Lady Gaga is famous for experimenting with styles, and her outfits never stop surprising us!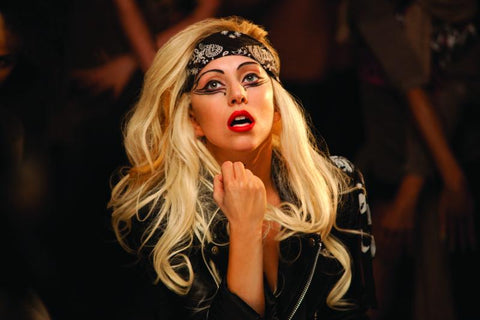 However, she does not only experiment with her clothes and hairstyles - that would be too boring for her. She went one step beyond and started experimenting with the color of her contacts as well.
We've seen her with different colored contacts, from blue and green, to grey contacts. Anything that she feels could match her outfit and help her with the impression she is trying to create.
Do you remember the Bad Romance video? Just when we thought that we've seen everything and that she can no longer surprise us - there she was. wearing lenses that made her eyes bigger and gave her the look of a cartoon character.
This was a small revolution in the show business world because most celebrities never thought about something like that before. Therefore, we could call Lady Gaga the queen of colored lenses, because she is taking them to the next level. Who knows what kind of colored lenses she could be wearing in her next video? We will see!
Orlando Bloom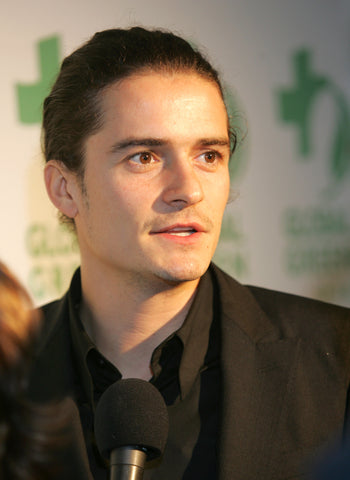 Did you know that Orlando Bloom is short-sighted?
He has to wear contacts (or glasses), so we guess he asked himself: If I already have to wear them, why don't I use them to spice things up?
His natural eye color is brown, and he has been known for wearing blue lenses from time to time. He had blue lenses in some of his most famous roles, but he doesn't wear them all the time.
We believe he found a way to combine these useful items with aesthetics and have some fun.
Selena Gomez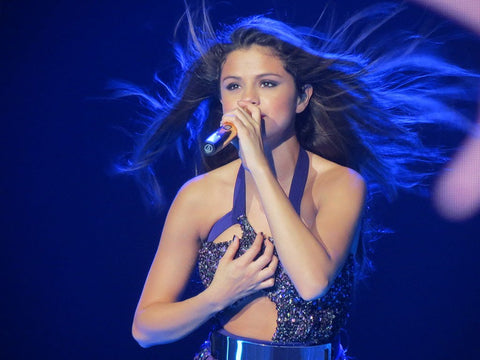 Selena looks outstanding with her natural eye color - brown - but recently she has found a way to enhance her looks even more. Of course, we are talking about colored lenses!
Although she has been experimenting with blue lenses as well, no one can't deny that grey is her color! Grey-colored lenses make her face stand out even more, and they give her a bit of a mysterious look.
They also look very natural on her, as she has found the right shade of grey, the one that matches her complexion and hair as if she was born with it! There are not many people with grey eyes, so we believe she has found a perfect way to stand out and be remembered.
Kylie Jenner
Most of the Kardashian and Jenner girls have similar eyes and hair colors.
At least, their natural colors are similar - they all have brown hair and brown eyes. Kylie Jenner is famous for experimenting with her style, hair color, and makeup. She is also the CEO of Kylie Cosmetics, a high-end makeup company, so it's kind of part of her job description.
We have seen her wearing different colored lenses, depending on the occasion and even time of the year. She loves blue lenses that make her eye makeup stand out even more.
However, she sometimes opts for brown contact lenses, that are few shades lighter than her natural eye color. Even this small change can make a big difference when it comes to face makeup and she uses it to showcase eye shadows from her collection.
Fans are having a hard time when they have to decide which color suits her best - she is gorgeous with blue eyes, but her hazelnut lenses also look outstanding on her.
Nicki Minaj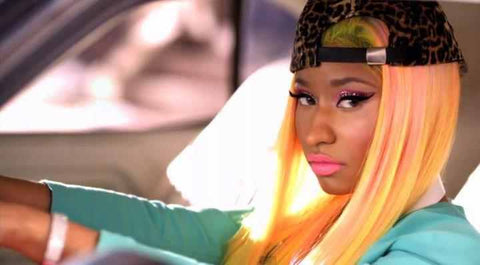 Nicki Minaj isn't afraid of experimenting! It doesn't matter whether it comes to her eye color or her hair color and hairstyle - we have seen her with some eye-catching wigs as well.
Her eyes are naturally very dark, almost black. However, if you scroll through her social media or her videos, you can see her wearing colored lenses in between blue and green. In her wildest days, she has also been experimenting with other colors, we have seen her wearing lenses that looked almost golden, but that didn't look very natural.
Ever since she has found a perfect blueish shade that compliments her looks, she decided to stick to it on most occasions.
Robert Pattinson
A lot of people dream about having blue eyes and that is why blue-colored contacts are among the most popular choice.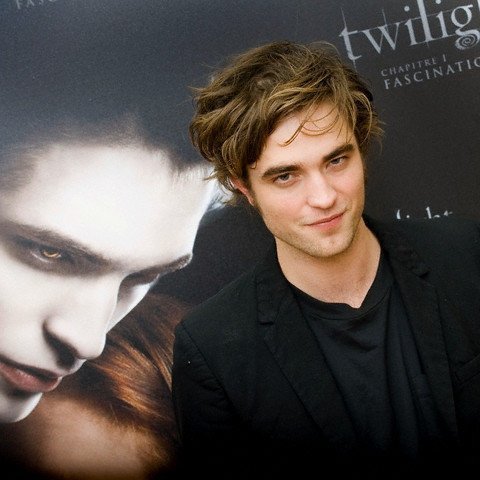 However, people like Robert Pattinson have reversed this trend! Did you know that his natural eye color is light blue and his eyes are outstanding? Maybe little too outstanding, or at least that is what the director of Twilight thought.
They had him wearing brown lenses for all Twilight movies, in order to change his looks. You could tell he liked the way brown lenses look on him because he was spotted wearing them outside of the cast.
If you ask us, Robert Pattinson looks great both with brown and blue eyes, although we can't deny that eye color changes his whole appeareance.
Ivanka Trump
Even a successful businesswoman such as Ivanka Trump can't resist colored lenses from time to time!
If you haven't noticed that her eye color sometimes changes, there is nothing to worry about. Ivanka's natural eye color is dark brown, and, when choosing colored lenses, she makes sure to choose lenses that are similar to her natural color, maybe just a few shades lighter.
If you'd carefully go through her photos from official occasions and celebrations, you'd be surprised to notice that her eye color changes. We have seen her with dark green, grey, and even blue eyes.
However, it's always a very natural-looking shade that goes well with her complexion and her hair, so no one is able to tell that she is actually wearing colored lenses. Some people think that she is also wearing brown lenses, in the same color as her natural eye color.
Why would she do that? One of the reasons could be that she wants her eyes to look bigger, and some lenses can help you do that as well.
If we wanted to list all celebrities that worn colored lenses at least once in their life, it would be a never-ending list. Just like us, celebrities are always working on their looks and trying to find ways to improve them.
Colored lenses are an easy way to completely transform your look and give your face a new glow. They are easy to use and they are safe, you don't need to have eye issues in order to wear lenses. Today, they are accessible to anyone who wants to see how they would look with a different eye color!
Did you know that all those celebrities were wearing colored lenses or it was a surprise for you? We guess there must have been some surprises because many of them look very natural and no one is able to tell that they are wearing colored contacts.
Which celebrity surprised you the most?

---